Young Avengers by Kieron Gillen and Jamie McKelvie Omnibus Vol 1 1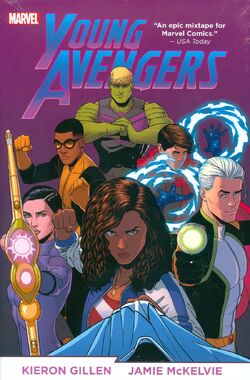 Direct Market Variant
Gallery
Title
Young Avengers by Kieron Gillen and Jamie McKelvie Omnibus Vol 1 1
Collects
The issues in this collection are unknown.

Solicitation
Kieron Gillen and Jamie McKelvie's groundbreaking, critically acclaimed epic is collected in one oversized volume! The Young Avengers are reinvented for the 21st century as Wiccan, Hulkling and Kate "Hawkeye" Bishop unite with Kid Loki, Marvel Boy, Prodigy and Ms. America. Someone has to save the entire multiverse. They're someone. No pressure, right? As a cosmic horror emerges from the shadows of the past, the Young Avengers race desperately across dimensions — but once they take on the gig to save reality, they may never be able to go home again! Meanwhile, Kid Loki is up to something. Surprise, I know. Fight scenes! Kissing! Fake IDs! Kissing! Drama! Conflict! Plentiful feels! (a.k.a. "meaningful emotional character beats" for people who aren't on tumblr.) And oh yeah, nightclubs! Read it! Collecting YOUNG AVENGERS (2013) #1-15 and material from MARVEL NOW! POINT ONE #1.
Notes
Trivia
ISBN
ISBN Unknown.
Links and References
Ad blocker interference detected!
Wikia is a free-to-use site that makes money from advertising. We have a modified experience for viewers using ad blockers

Wikia is not accessible if you've made further modifications. Remove the custom ad blocker rule(s) and the page will load as expected.