Thor by Walt Simonson TPB Vol 1 1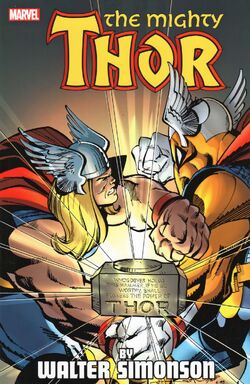 2017 Printing
Gallery
Title
Thor by Walt Simonson TPB Vol 1 1
Previous Collection
NextCollection
—
Collects
The issues in this collection are unknown.

Solicitation
Few people have ever left their mark on one character quite the way Walter Simonson has. His work on the Mighty Thor swept the Norse God of Thunder to heights never before seen and rarely achieved in his wake. Spanning epic tales of heroism and treachery, love and war, Simonson's work is often considered the definitive Thor. From the majesty and mystery of fabled Asgard to the gritty streets of New York City, Thor was never the same. That is the mark of a true visionary. This first volume begins the collection of Simonson's epic run — completely remastered from the original artwork and newly colored by Steve Oliffe! Collecting THOR #337-345.
Notes
Trivia
ISBN
ISBN Unknown.
Links and References
Ad blocker interference detected!
Wikia is a free-to-use site that makes money from advertising. We have a modified experience for viewers using ad blockers

Wikia is not accessible if you've made further modifications. Remove the custom ad blocker rule(s) and the page will load as expected.