Status
Characteristics
Origin
First appearance
Appearance of Death
History
The woman chosen for the Sif template in the Aesir created by Alchemax, had a defective gene which killed her when they applied the nano-technology to transform her into Sif.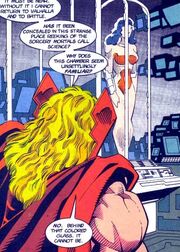 When Thor discovered the lab where they were created, he discovered her body still in one of the gestation tubes.
Powers and Abilities
Paraphernalia
Notes
Footnotes
Ad blocker interference detected!
Wikia is a free-to-use site that makes money from advertising. We have a modified experience for viewers using ad blockers

Wikia is not accessible if you've made further modifications. Remove the custom ad blocker rule(s) and the page will load as expected.