Affiliations
History
The Odin Cult is a white supremecist group led by the Red Skull. The Black Panther mentions them to Thor, but Thor at first believes them to just be followers of Odin, not knowing of their real beliefs. Upon meeting them in the guise of Don Blake, he understands all too well that their message of hate is not in keeping with his father. They are known by having a distinctive tattoo on their arms.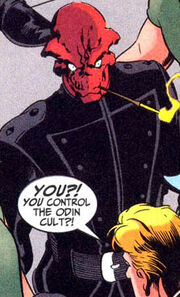 Paraphernalia
Equipment: None known.
Transportation: None known.
Weapons: None known.
Notes
Trivia
See Also
Links and References
Footnotes
Ad blocker interference detected!
Wikia is a free-to-use site that makes money from advertising. We have a modified experience for viewers using ad blockers

Wikia is not accessible if you've made further modifications. Remove the custom ad blocker rule(s) and the page will load as expected.