History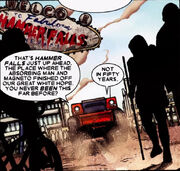 Hammer Falls is the number one tourist destination in Amerika. Most of the tourists who visit come to pray for the heroes to return, or buy or sell some hero memorabilia. The spot where Mjounr rests is a particularly sacred place.
It is mentioned that Hammer Falls is the place where Magneto and the Absorbing Man finished off the heroes' "Great White Hope". Hammer Falls is presumably owned by Hammerhead.
Hawkeye's third ex-wife, Tonya, and their daughter, Ashley, live there with Ultron Eight, working in Tonya's auto garage.
Notes
Trivia
See Also
Links and References
Footnotes